Singer Olamide's baby mama, Maria Okan, has used her latest post on Twitter to clear the air on what transpired between her and her baby daddy, Olamide, when she was pregnant with him. She revealed that nobody ever gave her any money to abort her baby when she was pregnant and that all the threats she had been receiving from the singer would amount to nothing.
Maria Okan disclosed that during her pregnancy, she went through some complications when she had a fibroid, which exploded a few months in. She revealed that she was hearing the story of her being given money to abort her baby for the first time. She called out her baby daddy for asking her to opt for an abortion, which she declined at that time.
She said she chose to focus on a safe delivery at that time because her pregnancy was at high-risk. She revealed that only a mother can understand what it means to have a safe delivery. She disclosed that the death threats and trolls that came from her baby daddy meant nothing to her.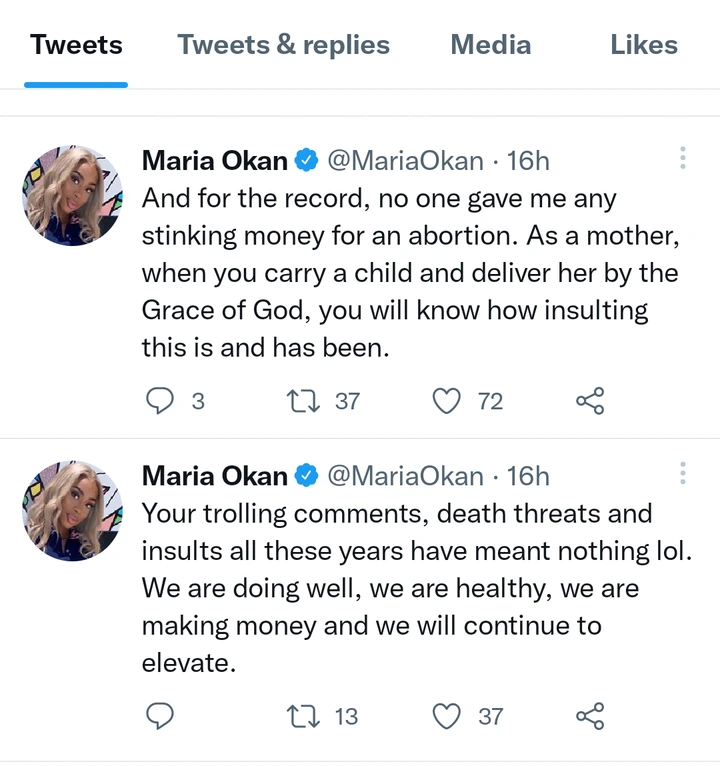 She concluded that she is doing well with her life, living a healthy life and making some money for survival while also reiterating that she will continue to elevate.